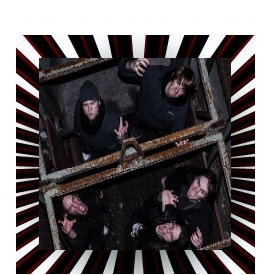 Interviewed By Arm The Pit
September 8, 2013
For the record, who's answering the interview?
I'm Maxime, guitar player in Sanity's Rage.
What is your band's name? How did you come up with that name?
Former band members Kenny(guitar) and Tim(guitar) came up with it since they wanted a statement that consisted of a contradiction. It could mean the frustration and anger you feel when you look around and see the insane things people are willing to do and take in life just to get them through, ignoring the madness they create or that they let happen. But everyone can make up a meaning for themselves.
So who's in the band and what instruments do you each play?
Kenny Molly - Vocalist
Jesse Van den Bossche - Guitar
Davy Stuyck - Bass Guitar
Gabriel Deschamps - Drums
Maxime Deschamps - Guitar
How would you describe your sound. What makes you unique?
From the start Sanity's Rage has been a thrash metal band. We all come from a different background in terms of style of bands. All of us had a lot of experience from playing in different kinds of metal bands, a lot of death metal and technical stuff, so there's quite a lot of death metal influences and we like to make it technical here and there. We play a modern technical style of thrash with death influences.
What bands have influenced each of you?
We like a lot of other styles as well like I said. We like a lot of Swedish metal stuff, The Haunted, At The Gates, Carcass, Opeth,... But also more technical stuff like The Black Dahlia Murder or The Dillinger Escape Plan. We can appreciate a lot of different styles. There are a lot of great artists out there we appreciate and these influence us in many ways.
How experienced are you on the stage, a virgin or whore?
Haha, good question. We are whores, and we would sell every small piece of dignity we still have left to be able to play. No we wouldn't. We have pretty decent experience I would say, all of us have had the opportunity to gain some experiences playing live in our country, abroad, in churches, in basements, on huge stages, …
How would you describe your shows?
We put a lot of effort in playing our music as well as we can. First priority is to play tight and show what we are capable of. After that, we just want to have fun and show the people who come see us that we appreciate the effort and give our energy back. I think it's important to show you are proud of playing your own music and to do that in a convincing way.
Tell us about your favorite show and why?
My favorite show with the band is probably the release of 'You Are What You Swallow'. We put up the show ourselves in our hometown, and the place was packed. It was an amazing and exciting experience to play all our new stuff for the first time. Also the first show with our current drummer Gabriel, who is also my brother. It was awesome to see the result of months of rehearsals come together on stage.
Tell us about your worst show and why?
I don't remember the worst show of all, but we've had some disappointing moments like bad organization, or no crowd and stuff like that. The most chaotic show was one where a guy from a club in Brussels called us in the afternoon asking us if we could play at his venue 3 hours later. We went through with it and ended up having to rush to get all the gear and all of us there during traffic hours. That was pretty stressful but fun, we got a cool experience out of it and made some friends, so that was fun!
Tell Us About Your Dream Show, who you'd like to play with and where?
A dream show for me would be a huge stage on top of a mountain, with 10 guitars to choose from, with the best sound and light equipment possible, where we play the best show ever. Pyro's of course, and naked ladies dancing on stage. And all of our fans enjoying the show and screaming every word with us. Doesn't really matter with who or where. A line up with all the giants in metal would be nice of course, and Wacken would be nice.
Do you have a street team and how can you join?
We have our local fan base that follows us around, which is awesome! They help spread the word. It helps a lot for a band to have it's own local fan base and grow on from there.
Do you have a record label and if not are you looking for one?
We are not signed to a label right now. We put a lot of effort in finding a deal, and got a lot of really great responses from a lot of different parties. However no significant deal got through, so we decided to try our own thing. You can do a lot by yourself. We would only sign a deal if it would be worth the effort and investment and if it could help distributing our music in a major way.
What are your plans for the future, in a year, 5 years?
Short term plans involve doing a lot of shows and probably a tour or two abroad. Long term we are looking towards producing the next album. We are already into the writing and jamming process, as well as artworks for the next full album.
Finally, do have any words on what Arm The Pit means to you?
What you guys do is really awesome, the underground metal bands of today need people like you to survive. Plus I read about your charity work Elizabeth Glaser Pediatric AIDS/HIV foundation and others. That's really great and unseen in the underground metal world. Keep it up!