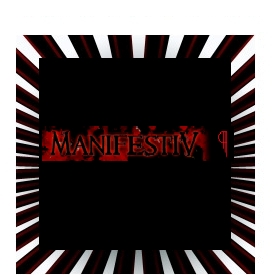 Joined Arm The Pit
September 7, 2015
Hometown: Vallejo, California
Genre: experimental industrial rock
Record Label: Pilcrow Magnum
Band Members
¶ Taylor: Guitars
EvE: Vibes
Bio
ManifestiV consists of ¶ Taylor on guitar and EvE on vibraphone over heavy beats. The experimental industrial duo met in 2011 while attending mortuary school in Dallas Texas. After writing a bulk of songs in Dallas in Summer 2013, ¶ joined EvE in Vallejo California, a historic artist city less than an hour north of San Francisco, to finish the record & build a band after it. When initially searching for bandmates, EvE surprised ¶ with her closet scholarship-earning talent: shredding on vibraphone.
After forming ManifestiV with ¶ in January 2014, EvE took her instrument a step further by building a collapsable electronic vibraphone from the ground up. The fully customized vibes debuted along with the band at SXSW in Austin Texas. By the next month, the duo played the Viper Room in Hollywood, followed by gigs throughout the Bay Area's industrial scene for the remainder of the year. The ManifestiV debut "Einer Sie Gern" released at Slim's in San Francisco on 12/13/14 featuring a gallery of encaustic paintings by EvE which served as its artwork.
Bookended by trips to Southeast Asia, ManifestiV toured North America extensively in 2015 behind their debut, first returning to SXSW and next on their Glacier Tour ranging from Vancouver British Columbia to Manhattan. In 2016, ¶ & EvE emerge from writing their sophomore release for sporadic US festival dates.