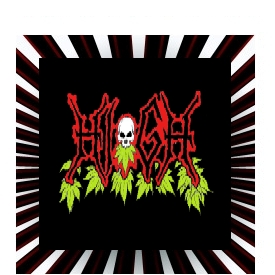 Interviewed By Arm The Pit
JULY 31, 2013
For the record, who's answering the interview?
Here is RedEyes CRAZY MANIACS!
What is your band's name? How did you come up with that name?
My band's called HI-GH. They decided that name when I wasn't in the band yet. But I immediately loved that name 'cause I love to get high too!
So who's in the band and what instruments do you each play?
The band is formed by 4 members. I'm RedEyes and I play lead guitar and backing vocals, Slowly plays rude bass guitar and vocals, Psyki plays rhythm guitar and vocals and, at least, we have Smyley on drums and vocals!
How would you describe your sound. What makes you unique?
People define us like a speed metal band and we love that! But we wouldn't be define like a pure speed metal band because we have a lot of shades in our music. And I think that's makes a band unique!
What bands have influenced each of you?
We are each influenced from the same band more or less. We love all kind of music, from early blues gods like Chuck Berry, Robert Johnson and Elvis to heavy metal bands like Motorhead, Judas Priest, Venom, Iron Maiden, Megadeth, Exciter and many many many others...passing through 70's rock and roll music that we love so much! It would be a long and varied list too!
How experienced are you on the stage, a virgin or whore?
I play guitar from 5 years now and I like to be a crazy maniac on the stage, I like to see people bang and fight under the stage when we play a show!
How would you describe your shows?
I think that our shows are outright, crazy, fast and loud. Mostly fast and loud! But we need to improve our shows in the future, we born a years and half ago…
Tell us about your favorite show and why?
In my opinion, our greatest shows was in Prato with Evil Invaders from Belgium (one of the greatest bands nowadays), Violentor from Italy and Fingernails from Italy. Awesome gig and awesome party in the night with a lot of maniacs and a lot of alcohol!
Tell us about your worst show and why?
I think that our worst show was the night before our greatest show, that sucks cause we had some guitar tuning problems, but people say that our show was great.
Tell Us About Your Dream Show, who you'd like to play with and where?
We dream to play in front of hundreds or thousand maniacs with other great bands of nowadays, there are a lot of new great heavy/speed metal bands in country like Canada, Belgium, Germany, Italy and Sweden. Heavy metal is being revived guys!
Do you have a street team and how can you join?
Not yet, but in future we'll need a great crew, and we'll love them!
Do you have a record label and if not are you looking for one?
We're under LARiot Survivor Records, but we haven't a real contract with them and we're looking for a new great label for reprint our first Full-Lenght titled "Night Dances" and for recording our new album that it'll be call " 'Till Death And After". So we need a new label!!!
What are your plans for the future, in a year, 5 years?
We want to carry our music around the world and we want to make it known to many people as possible. We have a lot of stuffs for you crazy fuckers!
Finally, do have any words on what Arm The Pit means to you?
We want to thanks our fans around the world for their support! We're nothing without you! Thanks you HI-GHeadbangers!