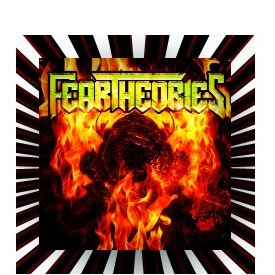 Interviewed By Arm The Pit
September 26, 2013
For the record, who's answering the interview?
Hi, this is guitarist Ole!
What is your band's name? How did you come up with that name?
Our band's name is Fear Theories. That name is something I thought up in my grandmas funeral when I remembered some of my uncles work with coal drawing. Those drawings look very scary and such. I instantly thought Fear Theories. The guys agreed on the name and the rest is history.
So who's in the band and what instruments do you each play?
I play Lead Guitar and I also do some backing vocals. Andreas Tjøsvoll is our Lead singer and rhythm guitarist, Håkon Sakseide plays Bass, Brage Nygaard plays Drums.
How would you describe your sound. What makes you unique?
Our sound is a mix between classic Rock/Metal and Modern Metal. We mix the old with the new. I think it's unique because we're not trying to be unique. We're playing what we want to play. And in my opinion we're pretty good at it.
What bands have influenced each of you?
I'm influenced alot by thrash bands like Metallica, Slayer, Testament, Evile, Kreator. But also very much by Iron Maiden, Judas Priest and Manowar. Andreas is also inlfuenced by Metallica and Iron Maiden, But he's into Power Metal like Sabaton and such aswell. Håkon is more all-liking than the rest of us. He likes almost everything from Funk to Pop to Jazz to Metal. His favorite band is Muse. Brage is more into Metalcore. He says he's been listening alot to Blessthefall lately.
How experienced are you on the stage, a virgin or whore?
We're quite experienced. We've been playing alot live and the feedback has been great so I guess we'll continue playing live as much as we can!
How would you describe your shows?
We go on stage, tune up and get ready. Before we say anything at all we smash into the title track of our EP, So It Begins. It's a great opener in my opinion. After that, we usually play The Treasure of the Haunted Pirate and continue on like EP setlist. But we like to mix it up a little bit aswell. We throw in songs that aren't from the EP too. Our shows usually end with either Heroes of the Past or Overlords. This is because these two songs are very big-sounding, they speak to the audience and they feel included and they agree with us. Our shows usually last 45 minutes at this time.
Tell us about your favorite show and why?
Our Favorite show was when we won the Bandcontest that got us on the line up for Karmøygeddon Metal Festival 2013. We got on stage as the youngest and least respected band. We walked off stage as heroes. What was so good with this show is that we won the contest and the evening was all about us. That was a great feeling.
Tell us about your worst show and why?
Our worst show is probably one of the first shows we played. The sound was horrible, we we're inexperienced and we didn't have any good songs yet.
Tell Us About Your Dream Show, who you'd like to play with and where?
I would personally love to play a show with Metallica. I know almost all of their material on guitar and it would be fucking amazing.
Do you have a street team and how can you join?
I don't know what you mean by that.
Do you have a record label and if not are you looking for one?
We don't have a record label, but of course we would love to have one. We're always looking for someone to snatch us up, but it isn't easy.
What are your plans for the future, in a year, 5 years?
We're working on new material, and we're gonna record 2 songs in December. We haven't thought about the future that much. Some of us are going out of town in the coming years and we might have to put the band on hold because of education and shit like that. I hope this doesn't have to happen, but it might. This band is all I've got, haha!
Finally, do have any words on what Arm The Pit means to you?
Well, You're quite new to us. We haven't really developed an opinion on you yet, but so far you've been nothing but great to us. Thanks!