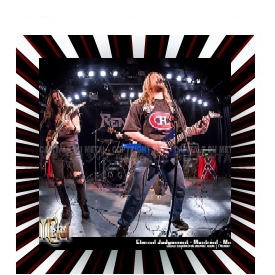 Interviewed By Arm The Pit
September 8, 2013
For the record, who's answering the interview?
Rémy Roy - Guitarist singer of the band
What is your band's name? How did you come up with that name?
We are Eternal judgment and it stands for who we our ... we judge , criticize society and bull shit and we will always do .
So who's in the band and what instruments do you each play?
Rémy Roy : Guitarist & Singer
Simon Racine : Guitarist & Back Vocals
Cédric Pelletier : Drummer
David Paul : Bassist
How would you describe your sound. What makes you unique?
We play an old school kind of thrash but looking forward to sound different ... Eternal has a pretty melodic sound and can pass to clean vocals , growls & high pitch screams all in the same song !
What bands have influenced each of you?
Like probably every metal band in the world ... Metallica , slayer , Maiden , Ozzy , Hendrix , Pink Floyd , Sepultura ... we could go on for hours .
How experienced are you on the stage, a virgin or whore?
Let's say that ... unlike a whore we our tighter with the time haha we are at around 50 gigs played in Canada ! but we never left the country yet ...
How would you describe your shows?
We have a party reputation ... even though songs are about anger and society problems ... people drink a lot and party hard ! body surf , boobs , thrash , guest appearances
Tell us about your favorite show and why?
My favourite show was at Bar le Trash in St-Hyacinthe with '' Anonymus '' for their 20 years tour ... people in the bar just went crazy and i'll always remember this show ! ( even if i was drunk as fuck lol )
Tell us about your worst show and why?
Worst show was a kind of battle of the bands with and horrible sound man ... a Frenchy gay European was mad at us cause I was a bit late at the show ... My guitar string broke in the first notes ... and I sang without my guitar for the rest of the show ... It was shit ! lol
Tell Us About Your Dream Show, who you'd like to play with and where?
I would love to play a show outside of the Canada ! that's pretty much my dream ...
Do you have a street team and how can you join?
No and I think we should look foward for this
Do you have a record label and if not are you looking for one?
We only have a 6 song E.P. out yet so we will wait until the first full length album to check it out ....
What are your plans for the future, in a year, 5 years?
Get bigger and bigger like prety much every band ! in five years i hop we have at least 3 solid thrash fuckin records
Finally, do have any words on what Arm The Pit means to you?
Look's like a great way to promote a band ! that's pretty much what I know haha !