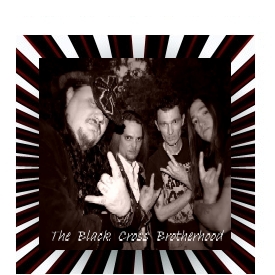 Joined Arm The Pit
November 2, 2013
Hometown: Charleston, West Virginia
Record Label: ATP Records
Brother Death Christopher Bowe - Guitars, Vocals.
Brother Pestilence Johnny Compton - Guitars, Vocals.
Brother Famine James Lawrence III - Drums, Vocals.
Brother War Adrian Pace - Bass, Vocals.
Tired of hearing the crap that is considered music nowadays, the guys of The Black Cross Brotherhood decided that it was time for the resurrection of what Metal was, and should be. Made up of ex members of War Creek Mafia, Freak Flag and Dixie Funeral, this band will take the throne that is rightfully theirs. Featuring the twin guitar attack of Charleston, WV's most respected metal guitarists, Johnny Compton and Christopher Bowe, and the heavy rhythm section of Jim Lawrence and Adrian Pace, The Black Cross Brotherhood plans to raise the bar for future generations of metal bands by combining thunderous doom rock riffing with blazing feats of guitar wickedness, and aggressive and melodic vocals and instrumental passages. ALL WILL BOW TO THE AWESOME MIGHT OF THE BLACK CROSS BROTHERHOOD, OR THEY WILL PERISH.