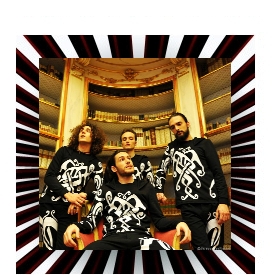 Interviewed By Arm The Pit
December 23, 2013
ATP
For the record, who's answering the interview?
PIQUED JACKS
littleladle, the bass player.
What is your band's name? How did you come up with that name?
The band name is "Piqued Jacks". One day in 2007 I accidentally dropped the bass, which crashed on the ground bending the jack inside the input. Once pulled out, it looked like an erect penis. It happened so spontaneously that we decided to make reference to that episode in an unexplicit way. It is way more than a mere sexual allusion, it describes our pure love for music, that make us "Piqued".
So who's in the band and what instruments do you each play?
E-King (Andrea Lazzeretti) - lead singer/keyboard; Penguinsane (Francesco Cugia) - guitar/b.v.; littleladle (Francesco Bini) - bass/b.v.; ThEd0G (Matteo Cugia) - drums/b.v.
How would you describe your sound. What makes you unique?
Our sound is a genuine and passionate alternative/funk-rock. It's a crossover between pop, hard rock, progressive rock with a funky vibe, which is always natural and experimental. Nobody else can put together the human element and such a musical exploration the way we do.
What bands have influenced each of you?
Penguinsane: QOTSA; E-King: The Killers; ThEd0g: Biffy Clyro; littleladle: The Mars Volta.
How experienced are you on the stage, a virgin or whore?
A big, dirty and badass whore.
How would you describe your shows?
They are powerful and intense, because we communicate our feels through music. There, people can connect with us emotionally, which is what music is all about.
Tell us about your favorite show and why?
The first presentation of the "Just a Machine" EP at the Murphy's Pub, our favourite venue. We played the new record in front of all our friends for the first time ever, where the "Just a Machine" tour began, and we did that surrounded by their love and heat.
Tell us about your worst show and why?
It goes back to 2008. We were playing at a town festival in front of one friend of ours and our parents. We played so bad that we ended the show laughing at each other on the stage.
Tell Us About Your Dream Show, who you'd like to play with and where?
Auditorium Shores in Austin, with Biffy Clyro.
Do you have a street team and how can you join?
We are currently building one, and if you want join..well, that's fantastic! Just write to us and be friendly.
Do you have a record label and if not are you looking for one?
No we don't, but finding a record label is one of our main goals right now. We are tough guys, but we need someone to believe in us and our music as strongly as we do.
What are your plans for the future, in a year, 5 years?
We working hard to make music become our job, and our plans are to finish promoting "Just a Machine" in early 2014, and then focus on new stuff (music, band image, etc..).
Finally, do have any words on what Arm The Pit means to you?
Arm The Pit is a great thing. We find in it the same passion we put in our music, and that makes us so happy, because music does need this kind of passion. To us, it means sincere help and understanding.